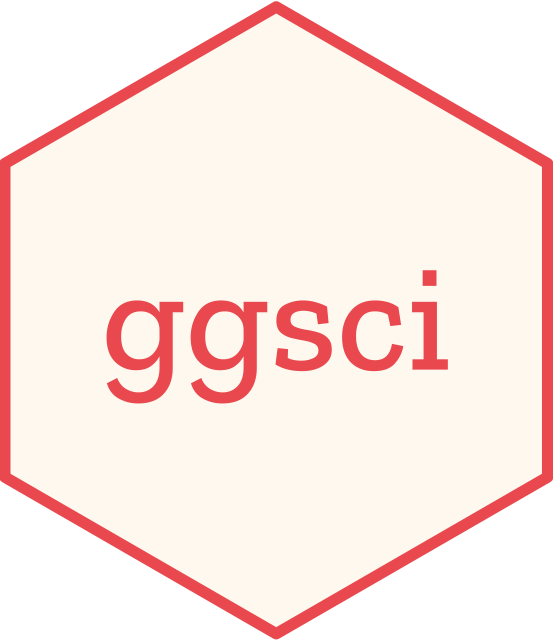 Changelog
Source:
NEWS.md
ggsci 3.0.0
CRAN release: 2023-03-08
New features
Added three Flat UI color palettes in
Improvements
Use a proper, three-component version number following Semantic Versioning.
Reduce output figure size in vignettes and README.Rmd by switching to the ragg PNG device and using pngquant for compression.
Added a new vignette on frequently asked questions.

A simple solution to interpolate the color palettes when the data has more categories than the number of colors in a discrete color scale.
A note on using a color scale consistently for multiple ggplot2 plots by setting global options (thanks, @DanChaltiel, #13).

Replace size with linewidth in code examples for ggplot2 >= 3.4.0.
Replaced the previous logo with a new hex sticker logo.
Replaced previous CI/CD solutions with GitHub Actions workflows.
Fixed broken or moved links in function documentation and vignettes.
Removed the LazyData field from DESCRIPTION.
ggsci 2.9
CRAN release: 2018-05-14
ggsci 2.8
CRAN release: 2017-09-30
ggsci 2.7
CRAN release: 2017-06-12
ggsci 2.4
CRAN release: 2017-03-08
ggsci 2.0
CRAN release: 2016-11-21